Connotative Meaning In The Proverbs Of The Batak Angkola Language
Abstract
This research was aimed to describe the connotative meaning in the proverbs of the Batak Language which used by people in Batak tribe which most live in North Sumatera. The writer formulates the problem of this research is how the connotative meaning in the proverbs of Batak language? The data of this research was the proverbs of Batak language which taken from Hatobangon who used proverbs in cultural ceremony in Tandihat Baru village region of Tapanuli selatan, North Sumatera. The method of this research was descriptive qualitative in order to analyze the semantic of connotative meaning of proverbs in Batak language. The results of this research showed that that the connotative meaning in the proverbs of Batak Language is having differences to denotative ones and its meaning depends on personal experience of Batak people experience and mostly relate the meaning of its proverbs to human life such as responsibility, hard work, social concern, and patience
Keywords:
Connotative Meaning, Proverbs, Batak Angkola Lenaguage
References
Bogdan, R., & Biklen, S. K. (1997). Qualitative research for education. Allyn & Bacon Boston, MA.
Brown, G., Gillian, B., Brown, G. D., & Yule, G. (1983). Teaching the spoken language (Vol. 2). Cambridge university press.
Bruffee, K. A. (1986). Social construction, language, and the authority of knowledge: A bibliographical essay. College English, 48(8), 773–790.
Chafe, W., & Tannen, D. (1987). The relation between written and spoken language. Annual Review of Anthropology, 16(1), 383–407.
Mailani, O., Nuraeni, I., Syakila, S. A., & Lazuardi, J. (2022). Bahasa sebagai alat komunikasi dalam kehidupan manusia. Kampret Journal, 1(2), 1–10.
Maulina, D. E. (2015). Keanekaragaman pantun di Indonesia. Semantik, 1(1).
Mulyana, D., & Rakhmat, J. (1990). Komunikasi antarbudaya. Remaja Rosdakarya.
Nation, I. S. P. (2011). Second language speaking. In Handbook of research in second language teaching and learning (pp. 444–454). Routledge.
Nowak, M. A., Komarova, N. L., & Niyogi, P. (2002). Computational and evolutionary aspects of language. Nature, 417(6889), 611–617.
Ortega, L. (2014). Understanding second language acquisition. Routledge.
Rogers, E. M. (1976). Communication and development: The passing of the dominant paradigm. Communication Research, 3(2), 213–240.
Savignon, S. J. (1991). Communicative language teaching: State of the art. TESOL Quarterly, 25(2), 261–278.
Sitinjak, S. A. B., & Simamora, R. M. P. (2022). Analisis Gaya Bahasa Sindiran dalam Film Ngeri-Ngeri Sedap. SINAR BAHTERA, 147–156.
Turnip, J. M. (n.d.). Umpasa dan Umpama: Lumbung Petuah dan Falsafah Batak Toba. PT Kanisius.
Vergouwen, J. C. (2004). Masyarakat dan hukum adat Batak Toba. LKiS Pelangi Aksara.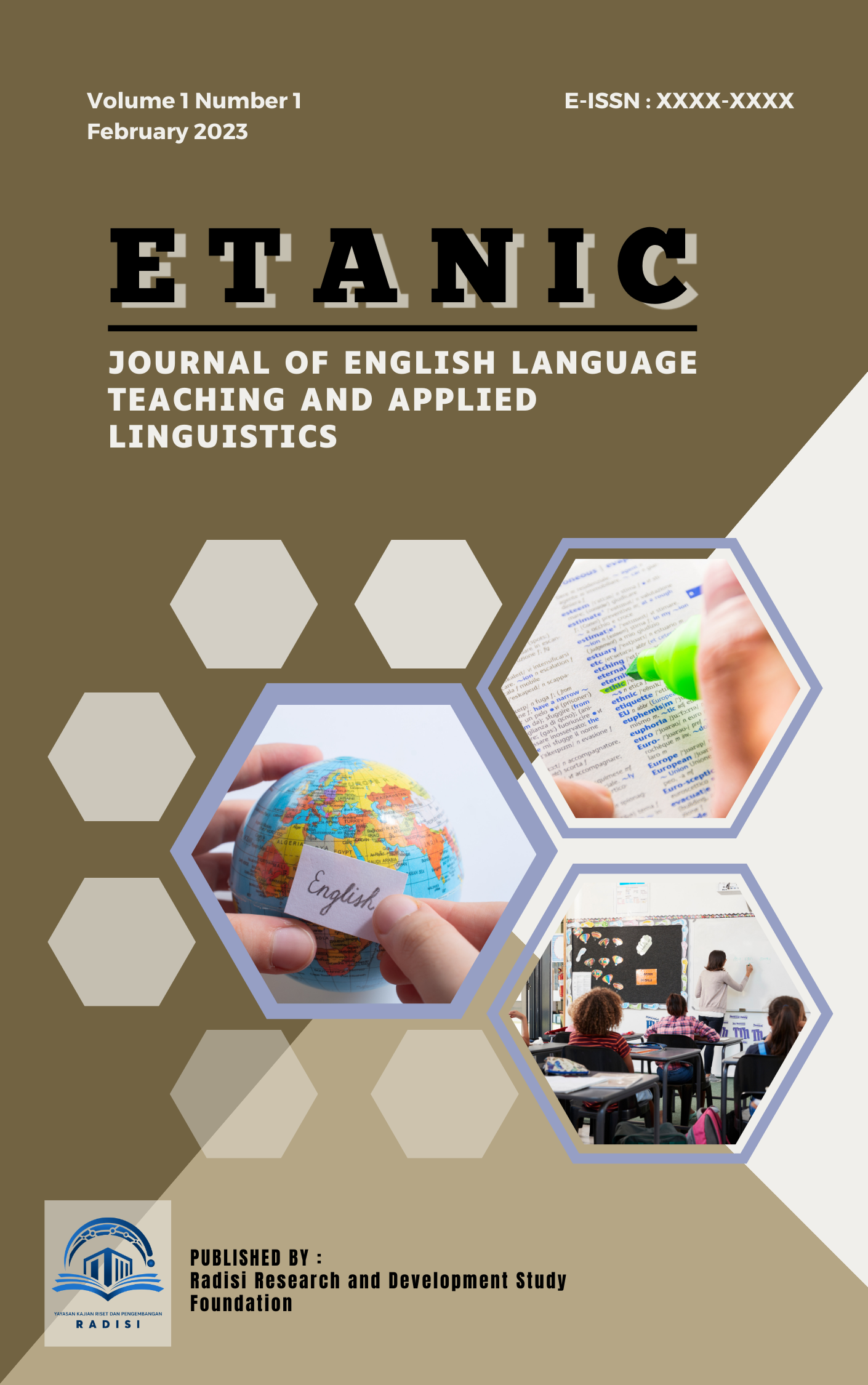 Downloads
How to Cite
Maharani, Andira, A. A., & Hasibuan, F. J. H. (2023). Connotative Meaning In The Proverbs Of The Batak Angkola Language. ETANIC Journal Of English Language Teaching And Applied Linguistics, 1(1), 53–58. Retrieved from https://jurnal.radisi.or.id/index.php/JournalETANIC/article/view/260
License
Copyright (c) 2023 Maharani, Ayu Andira, Feni Jelita Hasibuan
This work is licensed under a Creative Commons Attribution-ShareAlike 4.0 International License.