Identifying Metacognitive Online Reading Strategies Of Students Universitas Graha Nusantara
Abstract
The purpose of this study is to determine the metacognitive reading strategy EFL students of the English Department use during their academic period during this internet era. The participants were 76 English Education Study Program students from the academic year 2020/2021. Data came from the OSORS (Online Survey of Reading Strategy) questionnaire that provided accurate data. This study revealed that the students who participated in this study reported a wide range of metacognitive strategies when reading online academic texts. The Global Reading Strategies were the most popular metacognitive reading approach students use when reading online. The students participate in live chat with native speakers of English, where interacting with native speakers, the students can better grasp the native English language, phrases, and intonation by conversing with a native speaker. In keeping the reported use of strategies that include looking at sites covering both sides of an issue. The student searches for other areas that would analyze the topic, then combined his previous knowledge with information on the website. And the learners must have learned the first language. The role of L1 or its use is relevant in issues such as transfer or interference from L1 or even as a learning strategy in learning a second language.
Keywords:
Metacognitive Online, Reading Strategies, Universitas Graha Nusantara
References
Ahmadian, M. (2017). EFL Learners ' Use of Online Metacognitive Reading Strategies and its Relation to their Self-Efficacy in Reading. The Reading Matrix: An International Online Journal, 17(2), 117–132.
Amer, A., Al Barwani, T., & Ibrahim, M. (2010). Student teachers' perceived use of online reading strategies. International Journal of Education and Development Using Information and Communication Technology. https://doi.org/10.1002/acp.2350020108
Anderson, N. (2003). Scrolling, clicking, and reading English: Online reading strategies in a second/foreign language. The Reading Matrix, 3.
Annury, M. N., Mujiyanto, J., Saleh, M., & Sutopo, D. (2019). The Use of Metacognitive Strategies in EFL Reading Comprehension. 2, 7–10. https://doi.org/10.2991/icas-19.2019.13
Aziz, Z. A., Nasir, C., & Ramazani, R. (2019). Applying Metacognitive Strategies in Comprehending English Reading Texts. Celt: A Journal of Culture, English Language Teaching & Literature. https://doi.org/10.24167/celt.v19i1.1863
Chérrez, N. V. J. (2007). A case study of the impact and usefulness of synchronous voice chat to improve EFL learners' spoken production. Iowa State University.
Cohen, L., Manion, L., & Morrison, K. (2013). Research methods in education. routledge.
Coiro, J., & Dobler, E. (2007). Exploring the online reading comprehension strategies used by sixth‐grade skilled readers to search for and locate information on the Internet. Reading Research Quarterly, 42(2), 214–257.
Furenes, M. I., Kucirkova, N., & Bus, A. G. (2021). A Comparison of Children's Reading on Paper Versus Screen: A Meta-Analysis. Review of Educational Research, 91(4), 483–517. https://doi.org/10.3102/0034654321998074
Giang, B. (2017). Reading Comprehension Performance of EFL First Year Students: Basis for Reading Enhancement Program. English Language Teaching, 10, 89. https://doi.org/10.5539/elt.v10n7p89
Harahap, N., Sari, S. M., Ramadhani, Y. R., Safriyani, R., & Harahap, R. (2020). Using Rosetta Stone Media Through the Dynamic Immersion Method to Improve Vocabulary Mastery for Junior High School Students BT - International Conference on English Language Teaching (ICONELT 2019). 87–89. https://doi.org/https://doi.org/10.2991/assehr.k.200427.019
Hohenthal, A., Thirumalai, M. S., Mallikarjun, B., Geethakumary, V., Nayak, S., Sharada, B. A., Chengappa, S., & Rangila, R. S. (n.d.). Teaching English Language through the Internet: Chatting, Search Engines and Weblogs G. Baskaran, Ph. D. K. Muthu Rajan, MA, M. Phil.
Kitzie, V., & Shah, C. (2011). Faster, better, or both? Looking at both sides of online question-answering coin. Proceedings of the American Society for Information Science and Technology, 48(1), 1–4. https://doi.org/https://doi.org/10.1002/meet.2011.14504801180
Kow, Y. M., Kou, Y., Zhu, X., & Sy, W. H. (2019). "Just My Intuition." In N. G. Taylor, C. Christian-Lamb, M. H. Martin, & B. Nardi (Eds.), 14th International Conference on Information in Contemporary Society (iConference 2019) (pp. 469-480 BT-Information in Contemporary Society). Springer, Cham. https://doi.org/10.1007/978-3-030-15742-5_45
Küçükoğlu, H. (2013). Improving Reading Skills Through Effective Reading Strategies. Procedia - Social and Behavioral Sciences, 70, 709–714. https://doi.org/10.1016/j.sbspro.2013.01.113
Lee, J.-W., & Schallert, D. L. (1997). The Relative Contribution of L2 Language Proficiency and L1 Reading Ability to L2 Reading Performance: A Test of the Threshold Hypothesis in an EFL Context. TESOL Quarterly. https://doi.org/10.2307/3587757
Malviya, V. (2010, December). The Impact of Internet and Digital Media on Reading Habit. XXIV National Seminar of the IASLIC.
Muharlisiani, L. T., Kurniasih, N., Istiqomah, L., Safriyani, R., Abid, N., Ramadhani, Y. R., Hukom, S. J., Siahaan, B. L., Ahmadi, E. A., & Hendrawati, E. (2018). Designing an augmented reality strategy: Elearning/ extensive reading. International Journal of Engineering and Technology(UAE), 7(2.13 Special Issue 13).
Nanda, D. W., & Azmy, K. (2020). Poor Reading Comprehension Issue In Efl Classroom Among Indonesian Secondary School Students: Scrutinizing the causes, impacts and possible solutions. Englisia: Journal of Language, Education, and Humanities. https://doi.org/10.22373/ej.v8i1.6771
Ng, C., & Bartlett, B. (2017). Improving Reading and Reading Engagement in the 21st Century: International Research and Innovation. Springer Singapore.
Oxford, R. L. (2003). Language Learning Styles and Strategies : an Overview. Learning, 1–25.
Ramadhani, Y. R. (2017). The Effect of Read-Aloud and Reciprocal Teaching Method to The Student's Reading Comprehension at Eleventh Grade of SMA Negeri 2 Padangsidimpuan. Universitas HKBP Nommensen.
Ramadhani, Y. R., & Harputra, Y. (2016). A Comparative Study Between Teaching Reading Comprehension Of Narrative Text By Using The Herringbone Technique ( HT ) And The Context Clues Strategy To The Eighth Grade Students Of SMP Negeri 3 Padangsidimpuan In 2011-2012 Academic Year. IOSR Journal of Research & Method in Education (IOSR-JRME), 6(2), 1–5. https://doi.org/10.9790/7388-0602020105
Rianto, A. (2021). Indonesian EFL university students' metacognitive online reading strategies before and during the Covid-19 pandemic. Studies in English Language and Education; Vol 8, No 1 (2021)DO - 10.24815/Siele.V8i1.18110 .
Sheorey, R., & Mokhtari, K. (2001). Differences in the metacognitive awareness of reading strategies among native and non-native readers. System. https://doi.org/10.1016/S0346-251X(01)00039-2
Simbolon, N., Marbun, I., & Simanjuntak, E. B. (2020). Evaluating reading comprehension ability through the SQ4R model. Utopía y Praxis Latinoamericana, 25(1 SE-Artículos), 511–523.
Styfanyshyn, I., & Kalymon, Y. (2020). Online practice for speaking English. Collective Monographs, 124–132.
Tsai, I., Yeh, C., Wang, Y., & Cheng, Y. (2016). Developing Taiwan innovative interactive distance learning model: Empirical studies. 2016 11th International Conference on Computer Science & Education (ICCSE), 911–916. https://doi.org/10.1109/ICCSE.2016.7581704
Wen, L., & Chen, C. (2015). Taiwanese EFL Learners ' Perceived Use of Online Reading Strategies. The IAFOR Journal of Education, III(Ii), 68–80.
Zare, P. (2012). Language learning strategies among EFL/ESL learners a review of literature. International Journal of Humanities and Social Science, 2(5), 162–169.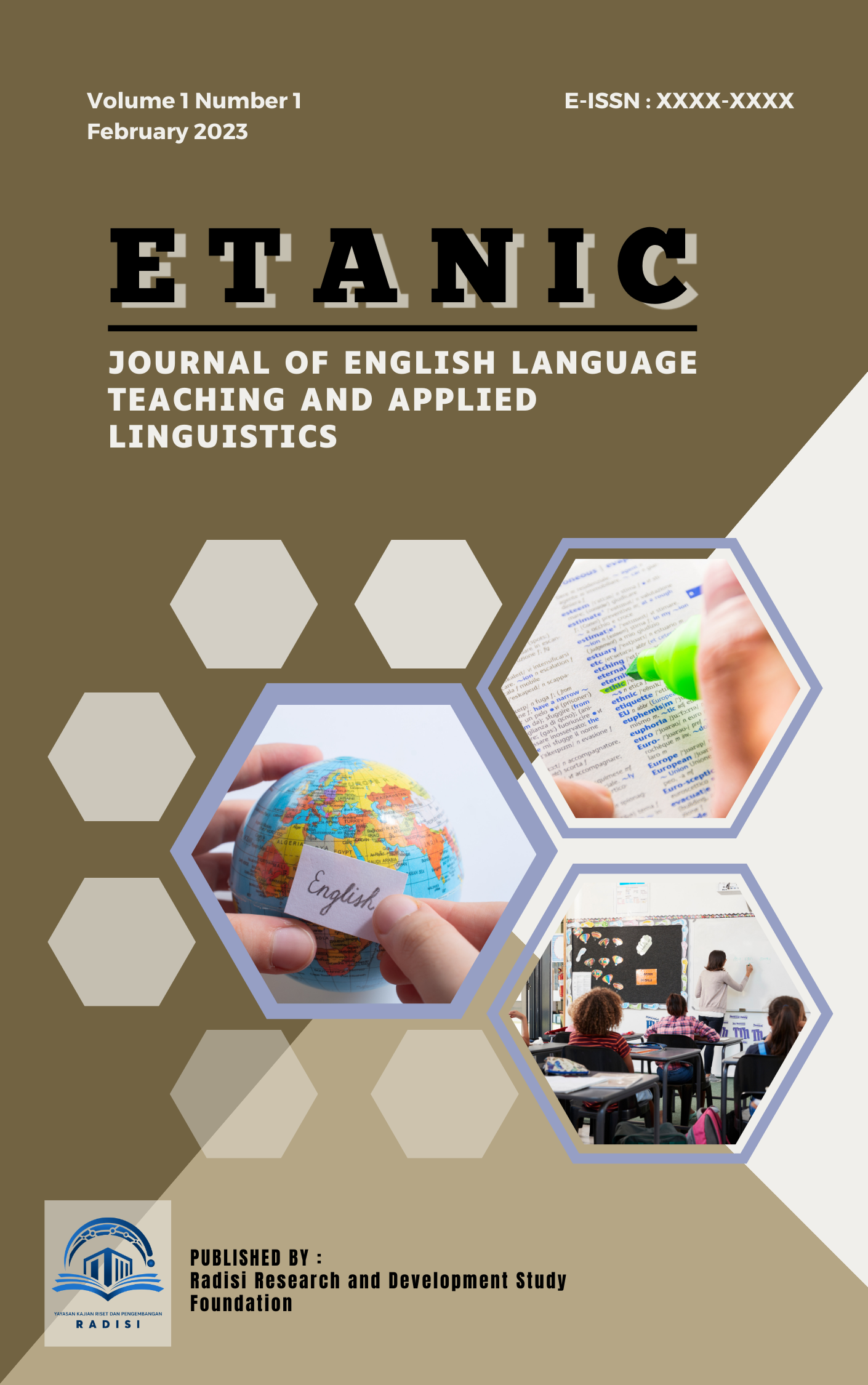 Downloads
How to Cite
Harputra, Y. ., Ramadhani, Y. R. ., & Siregar, M. N. H. . (2023). Identifying Metacognitive Online Reading Strategies Of Students Universitas Graha Nusantara. ETANIC Journal Of English Language Teaching And Applied Linguistics, 1(1), 20–30. Retrieved from https://jurnal.radisi.or.id/index.php/JournalETANIC/article/view/257
License
Copyright (c) 2023 Yuswin Harputra, Yulia Rizki , Muhammad Noor Hasan
This work is licensed under a Creative Commons Attribution-ShareAlike 4.0 International License.